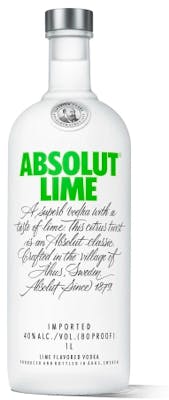 SKU: 83522901028
Absolut Lime Vodka
---
---
Absolut Lime is the latest addition to the core range of flavors. An instant classic, this citrus sibling arrives almost 30 years after the launch of Absolut Citron. With its fresh, balanced taste of natural Lime flavor and iconic frosted bottle, Absolut Lime perfectly complements the range as a key ingredient in many of today's classic drinks with a refreshing twist.
What does true taste of lime taste like?
Absolut Lime is made exclusively from natural ingredients, and unlike some other flavored vodkas, it doesn't contain any added sugar. To put it short and simple: Absolut Lime is smooth, rich and very fresh with a distinct note of freshly pressed lime and a slightly sweet and fruity finish.


Clear in the glass, this newcomer has a pleasing lime lollipop scent. The flavor is mild, with a faintly bitter midpalate giving way to a lime-peel finish. Recommended for mixing with tonic or soda water.

Are you 21 years old, or older?